"Hi, I am Amanda and I'm from Canada. Print Media Technologies interested me because it enables me to apply my knowledge from my Business Management Marketing degree to my studies. A background in print media is important in my pursuit of a career in business and is important in marketing and advertisement."
Flexography is a printing process which utilises a flexible relief plate. This may be a photopolymer or rubber plate. The technology is used for printing non-porous, flexible substrates, which are required for various types of food packaging. An example is the household sugar package.
A flexographic print is made by creating a positively mirrored master of the required image as a 3D relief in a polymer material. The image areas are raised above the non image areas. The ink is transferred from the ink roll which is partially immersed in the ink tank.
Then it transfers to the anilox or ceramic roll whose texture holds a specific amount of ink since it is covered with millions of small cells holding the exact same volume that enable it to meter ink to the printing plate in a uniform thickness evenly and quickly. The required amount of ink is transferred by using a chambered doctor blade system which removes excess ink from the anilox roller before inking the printing plate.
The substrate, usually a web, is finally sandwiched between the plate and the impression cylinder to transfer the image. The web is fed through a dryer, which allows the inks to dry. The Flexopress 6S-8 from Fischer & Krecke belongs to the DFTA (German Flexographic Technical Association). They are using it for research and ink testing, for example.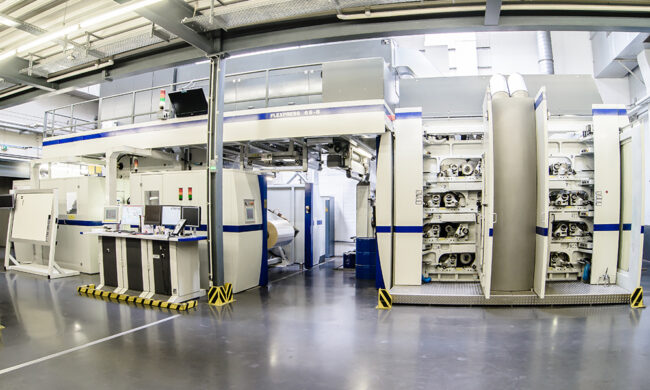 Fischer & Krecke 6S8: The heart of the DFTA Technology Center is the central cylinder press, the F&K Flexpress 6S/8. Its high flexibility allows printing tests to be carried out for a wide range of flexographic printing applications.
– 8 printing units with chambered doctor blade system
– Max. Speed: 500 m/min
– Max. Substrate width: 1250 mm
– Solvent and water-based inks
– Material thickness from approx. 12 μm to 400 μm
– Extensive anilox roller, adhesive tape and sleeve equipment
FOLLOW PMT ON FACEBOOK FOR UPDATES FROM PARTNERS