PMT STUDENTS ON PAPER – THE SERIES
interview with Yining Jin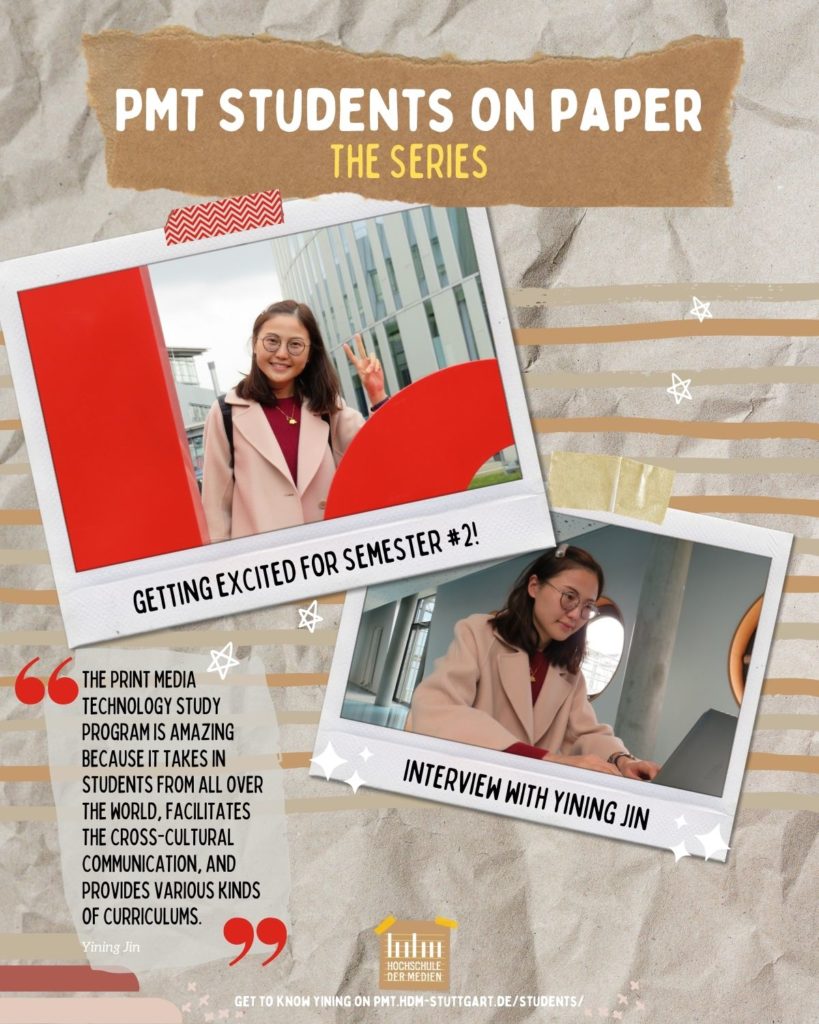 Yining Jin journeyed from China to Germany to begin her studies as a Print Media Technologies student (PMT)! She values PMT as a study program that is both culture- and curriculum-rich. Having just completed her first semester, which began in Winter 2020, she is looking forward to better days and hoping to finally be able to explore the beauty of Stuttgart with her friends!
What inspired your studies at Hochschule der Medien, specifically the PMT major?
Printing technology is an integration of design, aesthetics, chemistry, electronics, and computer technology. It also acts as a bridge between design and products, because it also helps to achieve artistic visualizations. The Print Media Technology study program is amazing because it takes in students from all over the world, facilitates the cross-cultural communication, and provides various kinds of curriculums.
What affect, if any, did COVID have on your ability to start your studies at HdM?
Online lectures seem to be the only feasible approach during COVID, fortunately, HdM provides online lectures on the BigBlueButton platform. This platform has great acoustics and smooth video transmission. It allows students to concentrate on the lecture, to communicate with each other, and to solve problems.
What advice could you give other students struggling with having college experiences and starting/maintaining friendships during COVID times?
My advice would be to try to find a way to keep in contact with each other! Video calls seem to be best choice nowadays.
What is the craziest experience you had since coming to Germany (if you were already in Germany prior to this semester, please share your experience since the start of COVID)?
Since the start of COVID, I started to wear a mask wherever I went. Although wearing a mask may bring about some discomfort, such as; difficult respiration, steaming of your glasses, a widened interactivity of distance, etc, it plays an important roll in reducing the infection rate. So I will continue to follow the pandemic prevention regulations.
Did the pandemic ruin any major plans you had so far? If so, what were they?
Since starting my studies at HdM, I have not had the opportunity to explore Stuttgart. Maybe after COVID, I would like to travel around a little bit and really start to explore Stuttgart with friends.