PMT STUDENTS ON PAPER – THE SERIES
interview with Sarah Schumacher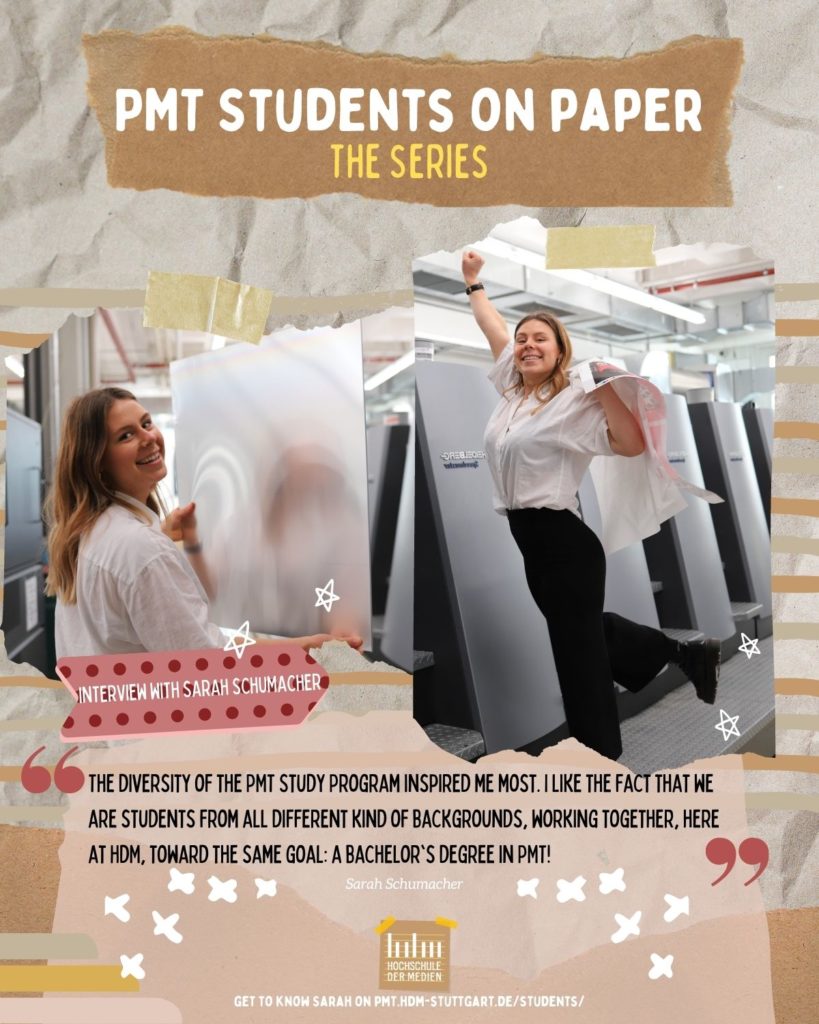 Sarah Schumacher is a German native with a keen interest in cultural exploration! That's why the Print Media Technologies (PMT) major was especially interesting to her!

Now, a first-semester PMT student, Sarah appreciates not only the program's opportunities for cultural exchange – but the diversity in the subjects that make her feel she will be well-prepared for the future!
What inspired your studies at Hochschule der Medien, specifically the PMT major?
The diversity of the PMT Study Program inspired me most. I like the fact that we are students from all different kind of backgrounds, working together, here at HdM, toward the same goal: a bachelor's degree in PMT!
Being in an international program like PMT reminds me of my time on the Camino de Santiago; a pilgrims' path, where I walked 800km through Spain. There, I was also surrounded by people from all over the world. Often, we were hiking together, inspiring, motivating and helping each other.
I also chose this program because of the wide range of subjects offer. That makes me feel well prepared for my future career. All in all, I am very happy to a PMT student!
What affect, if any, did COVID have on your ability to start your studies at HdM?
Luckily, I could start my studies as planned! Since I am from Germany I did not need to apply for a visa or any other documents that could have caused any problems.
What advice could you give other students struggling with having college experiences and starting/maintaining friendships during COVID times?
In this situation, the best we can do, is to keep a positive mindset and try to find new ways to be as socially active as possible. Video calls are always a good tool for keeping in touch or even getting to know each other in the beginning!
What is the craziest experience you had since coming to Germany (if you were already in Germany prior to this semester, please share your experience since the start of COVID)?
Well…nowadays since there are not that many social activities, because of COVID, it's hard to focus when there is finally something going on! The lack of focus and simply being excited to be out again led to me ordering almost 300 pieces of sushi at a restaurant with some of the PMT girls for the first time.
Did the pandemic ruin any major plans you had for 2020? If so, what were they?
Unfortunately, YES! I would have competed in a huge mini golf tournament in California, USA. One day
before our flight, however, the US borders were shut down! I also booked a trip to the Faeroe Islands, which was cancelled just like my other planned, short trips to Malmö, Sweden, my second home.
Anyway, I always try to see the positive aspects. Due to the cancellations, I was able to spend quality time with my family and focus on my application for the PMT program, without which, I would not be
here today!