PMT PARTNERS ON PAPER – THE SERIES
interview with Mr. Ian Baitz of Ryerson University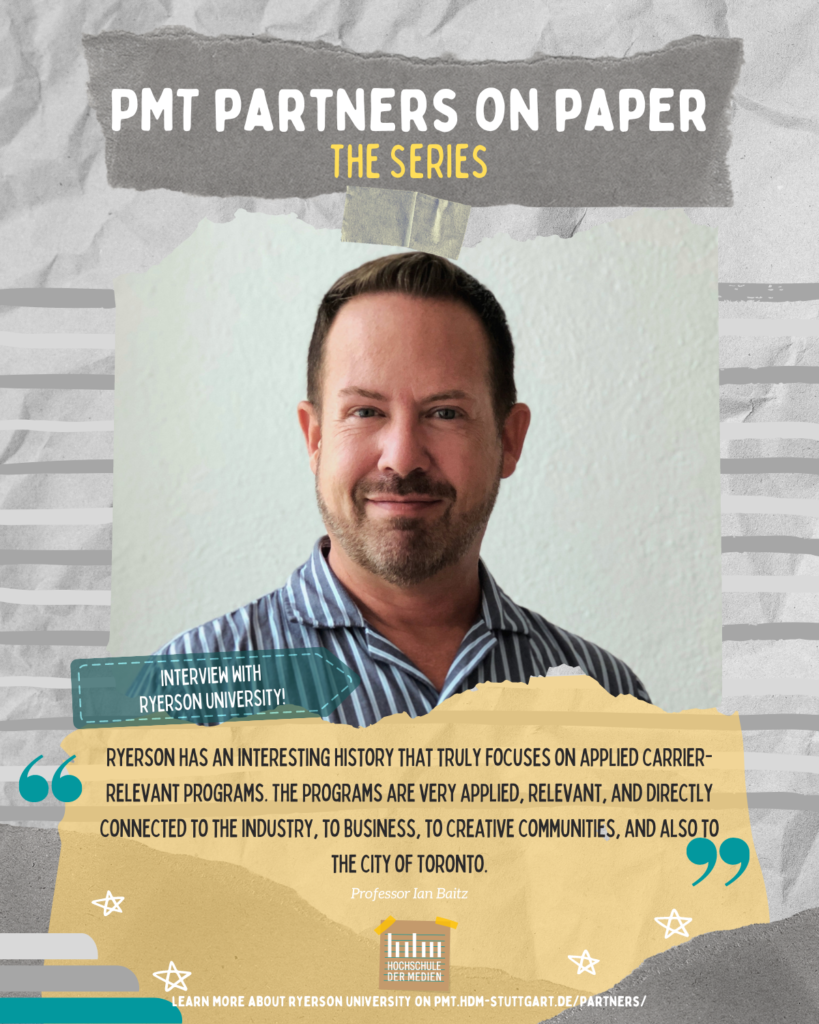 Ryerson University, based in Toronto, Canada, is an HdM partner university with amazing opportunities for Print Media Technologies students to discover both a new culture and learn more about interesting courses in Graphics Communications and more!
To find out what makes Ryerson University so great we interviewed Ian Baitz, Associate Professor of Graphic Communications Management for 20 years at Ryerson University. His main areas of teaching are printing processes and material sciences with a focus on Flexography.
He is active with a number of boards and organizations, including IARIGAI (International Association of Research Organizations for the Information, Media and Graphic Arts Industries) and the Canadian Printing Industries Scholarship Trust Foundation.
Check out the interview below
🡫
What makes Ryerson University unique and stand out from the other universities?
Ryerson has an interesting history that truly focuses on applied carrier-relevant programs. The programs are very applied, relevant, and directly connected to the industry, to business, to creative communities, and also to the city of Toronto.
What do students enjoy most about Ryerson University?
Many things… but what I think of first is the downtown location. Ryerson is centrally located and is right beside the subway station. It is an urban campus, surrounded by the center of the city. The location can be both exciting and also very convenient for students because all the trains and lines converge downtown.
One of the major components of the PMT program is the emphasis on diversity. Would you describe Ryerson as ethnically diverse and are there many international students?
Toronto itself is ethnically diverse. Toronto is a city of immigrants with a very large number of people who live in Toronto either are immigrants or their parents immigrated to Canada. We see that in Ryerson, certainly in our own students who come from the Toronto area or a little further away. Ryerson has also had a very significant increase of international students choosing to study at Ryerson in the last several years. So, our classrooms are very ethnically diverse. This is certainly true of our student population and is increasingly true also of our professors and faculty members.
Which courses do you think would be interesting for PMT students?
We have a full-time academic advisor, Marietta, just for students in Graphic Communication Management. Graphic Communication Management (or GCM as we call it), would be the most similar program to PMT. All the courses are listed on the website Ryerson.ca/gcm. Some of the courses that gather the most interest that I would highlight are those in packaging, graphic design, typography, web- and cross-media, and color management. For students who might enjoy research, we have a thesis course. So we have many options that depend on the particular interests of the students.
What would you suggest prospective international students include in their applications to make them stand out?
The most important characteristic for a student to show is their flexibility, and their ability to respond positively and creatively to new situations. Studying internationally in a new country, new city, new university demands some flexibility and being able to adapt to a new environment since everything will differ from the way things are at home. Showing the ability to think on your feet, not get too flustered, embrace the excitement of this opportunity.
What are some of the biggest challenges that exchange students may encounter while studying abroad, specifically, at Ryerson University?
Some of the biggest challenges are the same at any other university: being away from home and meeting new people, this is also an exciting part of participating in an exchange program abroad. You get the opportunity to learn a new culture, to meet new people and get out of your comfort zone. Technology has made it much easier to stay connected with people nowadays. One advice is to try and meet new students from different places with different backgrounds to make the most of your experience.
Where can students find affordable housing on/near campus?
Unfortunately, Ryerson does not have residence spaces for exchange students. But right in the neighborhood of the university, within a 5-8 minute walk of the campus, there are several different private residences that are intended for university students. The three most known residences are called: Neill-Wycik, Campus Common, and Parkside Residences. These private residences are very flexible, full of students, modern, well renovated and offer a good opportunity for students. Students may also choose to rent a room or an apartment through various online websites as well.
What is it like to live in Canada, specifically, Toronto?
Toronto is the largest city in Canada, the city itself has a population of 3 million and is a very safe city. Toronto is a largely diverse and multicultural city regarded as the center of Canada's cultural, entertainment, banking, financial industry. Each season brings different things to do, because every season has its own weather.
What are some interesting sights or activities in or around near the Ryerson University?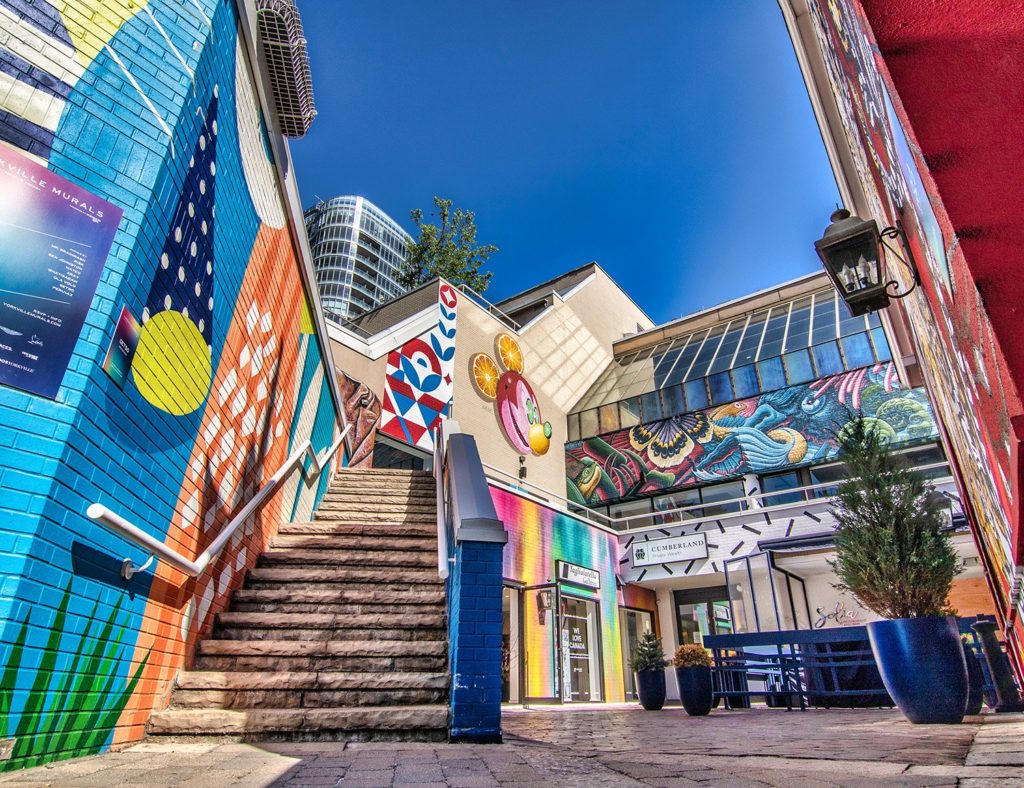 Close to campus, there are shopping centers and movie cinemas. There are also very interesting and diverse neighborhoods like Chinatown, Little Italy, and Yorkville which offer different dining and shopping opportunities.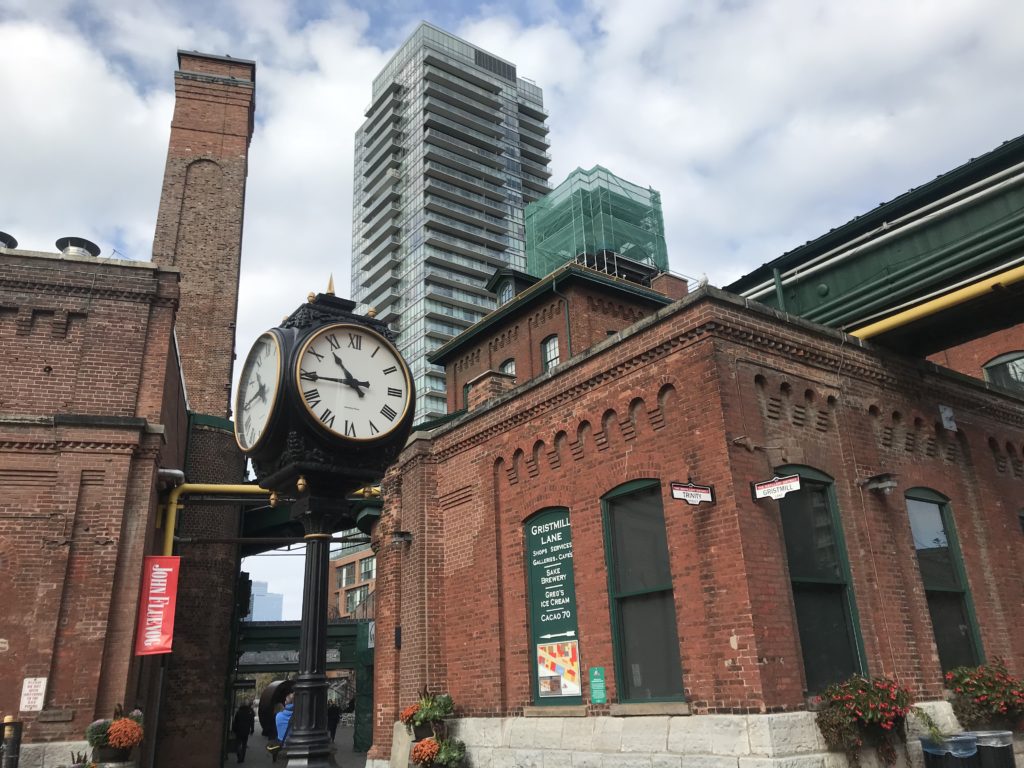 There is a very historic distillery district which is over 200 years old and is a very beautiful area to walk around, take photos, and to have lunch. The lakeshore is also nearby, it is a large lake where you can find parks, beaches, restaurants, and cafes.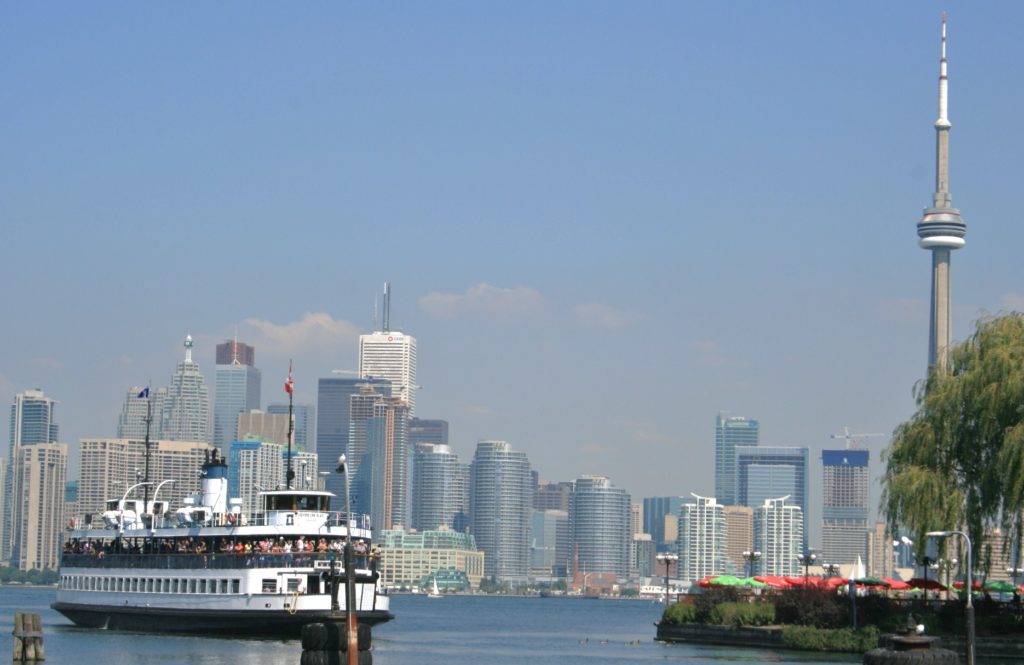 You can also take a ferry to Toronto island, which has bicycle paths and walking paths. There is a lot nearby, whether you are looking for an urban experience or even something a little more in nature.