PMT STUDENTS ON PAPER – THE SERIES
interview with Rashidkhon Akramkhonov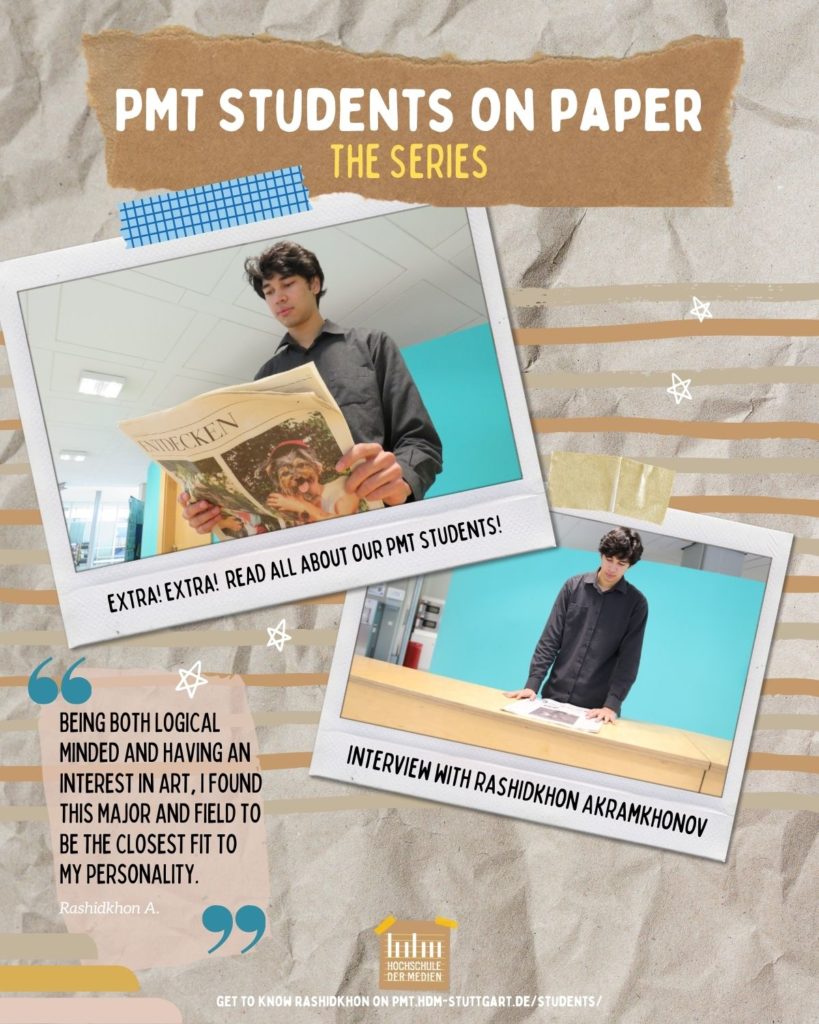 Rashidkhon Akramkhonov is a first semester Print Media Technologies (PMT) student who appreciates that the PMT major combines both his technical and creativity interests. He came from Uzbekistan to study at Hochschule der Medien. But, his journey to get to his hotel alone after arriving in Frankfurt, Germany, may have been crazier than the whole process of studying in foreign country!
What inspired your studies at Hochschule der Medien, specifically the PMT major?
The Print Media Technologies major is mix of engineering and art. Being both logical minded and having an interest in art, I found this major and field to be the closest fit to my personality. Also, the print industry is one that I cannot imagine collapsing! So, it is an industry I can see career opportunities in the future.
What affect, if any, did COVID have on your ability to start your studies at HdM?
The only real problem I experienced was stress. But, fortunately, I could adjust all problems and was able to come to Germany!
What advice could you give other students struggling with having college experiences and starting/maintaining friendships during COVID times?
There is no one special formula or approach to overcome any challenge. All you can do is be open mind and remember to complete tasks by their deadlines. COVID is a problem, true, but it's just the current problem and there will always be obstacles to overcome.
What is the craziest experience you had since coming to Germany (if you were already in Germany prior to this semester, please share your experience since the start of COVID)?
I got lost in Frankfurt the first day I arrived here in Germany. I had no idea where to go. My phone did not work and when I finally figured out how to get to Stuttgart, I also learned the train was broken. Of course, it then started to rain! I then missed my bus to Stuttgart. So, I couldn't move into my dorm room. The next bus was late and my buddy, Laura, was waiting for me in Stuttgart at bus station but we could not meet.
After a day of craziness, I arrived in Stuttgart!! BUT, I still had no internet, no idea where I was or where to go. The only thing I had was the address of a hotel. It was 9 pm and if I didn't arrive before the hotel reception closed at 10 pm, I wouldn't have a hotel to sleep in either.
There were no taxis in sight, my phone wouldn't connect to free WiFi and I had one hour to get there! So, I set out on foot! Remember, it was raining, so the ground was slippery. As I was walking I slipped and fell right into the mud! A perfect ending to a perfect day! But, I did make it to the hotel.
It was a crazy adventure but also pretty funny!
Did the pandemic ruin any major plans you had for 2020? If so, what were they?
Fortunately, not! There were some difficulties, like everyone has experienced, but nothing serious.