PMT FACULTY ON PAPER – THE SERIES
interview with Prof. Jansen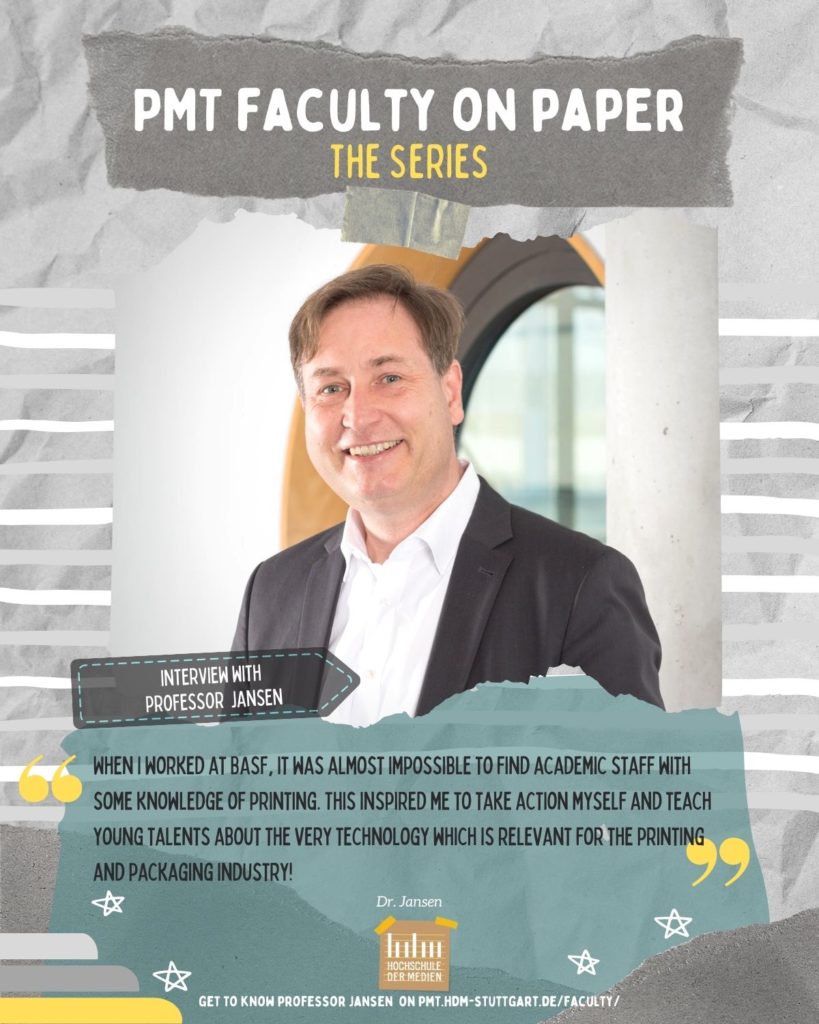 Professor Dr. Jansen is the Dean of the PMT study program and offers students courses in Material Sciences, Post Press Technologies, Campaign Management, and Flexographic Printing.
How would you describe your teaching philosophy?
I think that our science sessions (STEM) is all about discovering and understanding valuable concepts. The materials I prepare for my lectures are not found in other sources in terms of compilation and presentation, so our students have a large pool of valuable input at their disposal. Some of my lectures are frontal, while others, such as Campaign Management, encourage student creativity and are building on theoretical knowledge students have already gained . These classes require self-organization. I try to inspire students during my lectures.
What inspired you to become a professor and what is your favorite part about teaching at HdM?
There are too few academics in the printing industry. When I worked at BASF, it was almost impossible to find academic staff with some knowledge of printing. This inspired me to take action myself and teach young talents about the very technology which is relevant for the printing and packaging industry
What do you value most about the PMT major/curriculum?
Our international students and their different backgrounds are most inspiring.
What are some common characteristics, passions, and/or career goals of student in the PMT major?
The printing industry has increasingly developed into an international business with many companies investing in new workflows, equipment and technologies. There are major developments in the applications of the commercial, packaging and industrial printing industry. These developments comprise new technologies such Printing on Demand, Variable Data Printing, 3D Printing and Functional Printing. All subjects, which drive new products and markets. Therefore the degree involves two educational emphases, professional media engineering and management. Specific industry knowledge is essential to manage and drive these new developments. Therefore our graduates enjoy excellent careers in the industry, which include technical, management, marketing, and senior positions across the world. Additionally students have the opportunity to acquire intercultural, language and leadership skills during their studies
What advice would you give to students entering the PMT program?
It's not that easy to study in Germany. Students have to deal with a lot of subjects and details in a short time. You have to be aware that only dedication, continuous learning and the seriousness to study for the subjects will make you successful. Students must be interested in the subject, have a passion for technology and enjoy different cultures and languages.
What advice would you give students for being successful in your courses?
Be serious about what you do. It is important that students show stamina and some self-discipline. This will help them to improve their success. I can only advise every student to study regularly, to attend lectures and to prepare and follow the lectures.
What advice would you give to students graduating from the PMT program?
I recommend that all graduates start working in an international operating corporation. There they can best use their talents in an international environment and perhaps later take over the leadership in a medium-sized company. Actually, there is not much to recommend for our students, as the labor market is excellent.