PMT FACULTY ON PAPER – THE SERIES
interview with Dr. Güttler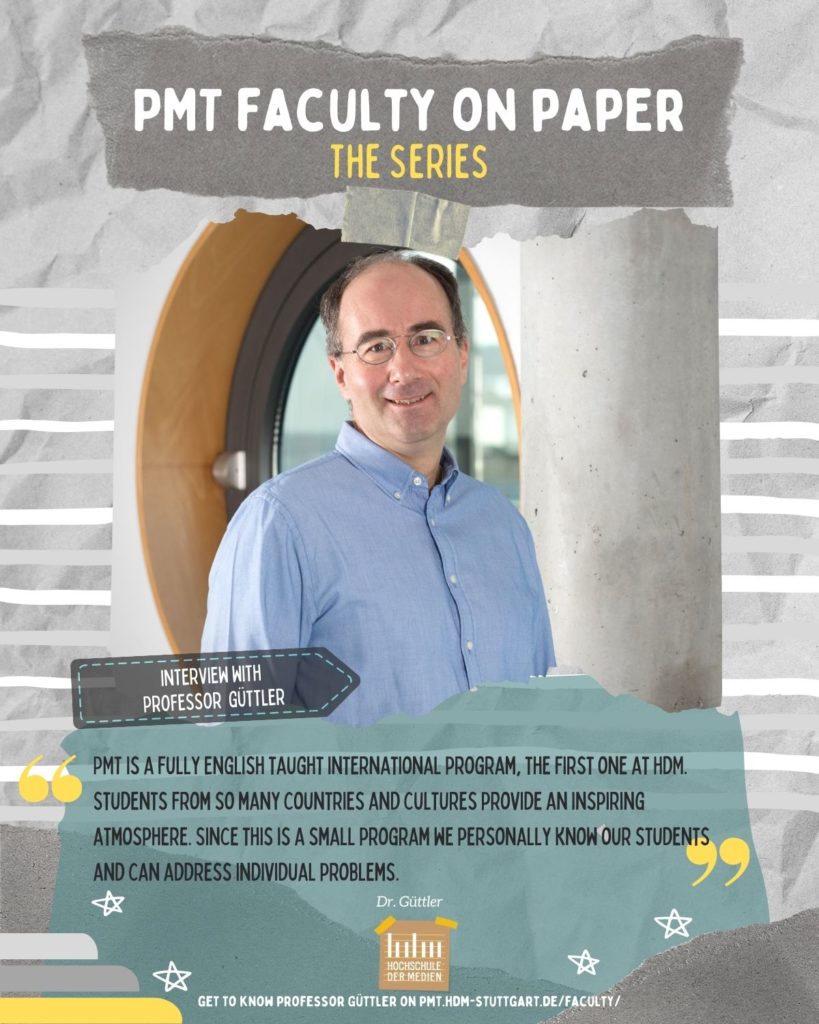 Professor Dr. Güttler offers PMT students courses in the field of Digital Printing which belongs to the key technologies in the industry and will gain even more importance in the future. During the first year of studies, he delivers lectures on Mathematics and Physics for Engineers. These courses impart some fundamentals in science and, even more important, teach a way of scientific reasoning that a prospective engineer is expected to be capable of.
How would you describe your teaching philosophy?
I carefully prepare my courses with respect to content and structure. The technical courses should be state of the art. I know that my courses may be demanding for students. I believe that learning requires to leave your comfort zone
What do you value most about the PMT major/curriculum?
This is a fully English taught international program, the first one at HdM. Students from so many countries and cultures provide an inspiring atmosphere. Since this is a small program we personally know our students and can address individual problems.
What are some common characteristics, passions, and/or career goals of student in the PMT major?
Many students already have an affiliation with the print media industry, e.g. because their parents own a print shop. Others studied something different before. These students usually go straight forward, they know what they want.
What advice would you give to students entering the PMT program?
Some international students mix up a study program in engineering with a vocational training. In Germany we have an established system of vocational schools for practitioners. But these trainings are not study programs. This is different in other parts of the world where vocational trainings are also offered at colleges. This misunderstanding leads to dropouts.
What advice would you give students for being successful in your courses?
Work hard, do not try to find shortcuts or loopholes. If you lack the prerequisites from school then take your time to catch up. A slower track is also possible.
What advice would you give to students graduating from the PMT program?
When students graduate they have passed their internship and wrote their thesis. They have acquired many impressions from the industry and usually know what they want.