PMT FACULTY ON PAPER – THE SERIES
interview with Mr. Sprinzing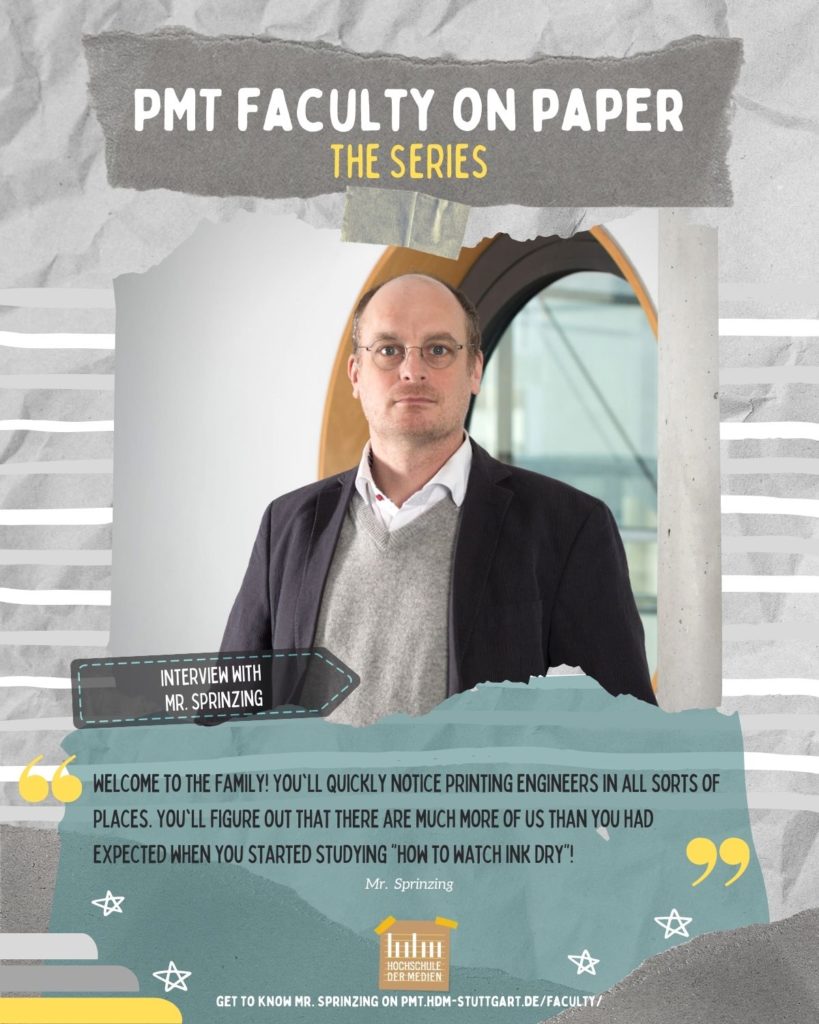 Mr. Sprinzing is a lab engineer who has worked for HdM for 15 years!
Through Rotogravure and 3D-Printing courses may be written on his business card, students may also pick his brain for expertise in: lithography, industrial bindery, color management, environment and sustainability (for printers), quality control and mechatronics!
What inspired you to work at HdM and what is your favorite part of being an HdM employee?
Simply put – I watch ink dry and I love it!
How does your background and experience strengthen this academic background?
I have been properly trained to watch ink dry at this exact institution – HdM. Then the fine folks at Steinbeis University filled my brain with all kinds of "General Management" topics at master's level.
I have been able to put my knowledge in action building presses and bookbinding machines, and finally found my way back to alma mater.
What do you value most about the PMT major/curriculum?
Print media technologists need to acquire a broad spectrum of skills, which is reflected in the curriculum. Yet, still students can easily find a way to tailor their course to suit their personal preferences.
What are some common characteristics, passions, and/or career goals of student in the PMT major?
Watching ink dry…and loving it!
What advice would you give to students entering the PMT program?
Use your special privileges as a student: while you're a student, you get red carpet treated at most companies. Go and visit as many as you can (when the world has finally overcome the pandemic)
What advice would you give students for being successful in your courses?
Take good care of your eyes and practice watching ink…nevermind.
What advice would you give to students graduating from the PMT program?
Welcome to the family! You'll quickly notice printing engineers in all sorts of places. You'll figure out that there are much more of us than you had expected when you started studying "how to watch ink dry"!