PMT FACULTY ON PAPER – THE SERIES
interview with Mr. Michl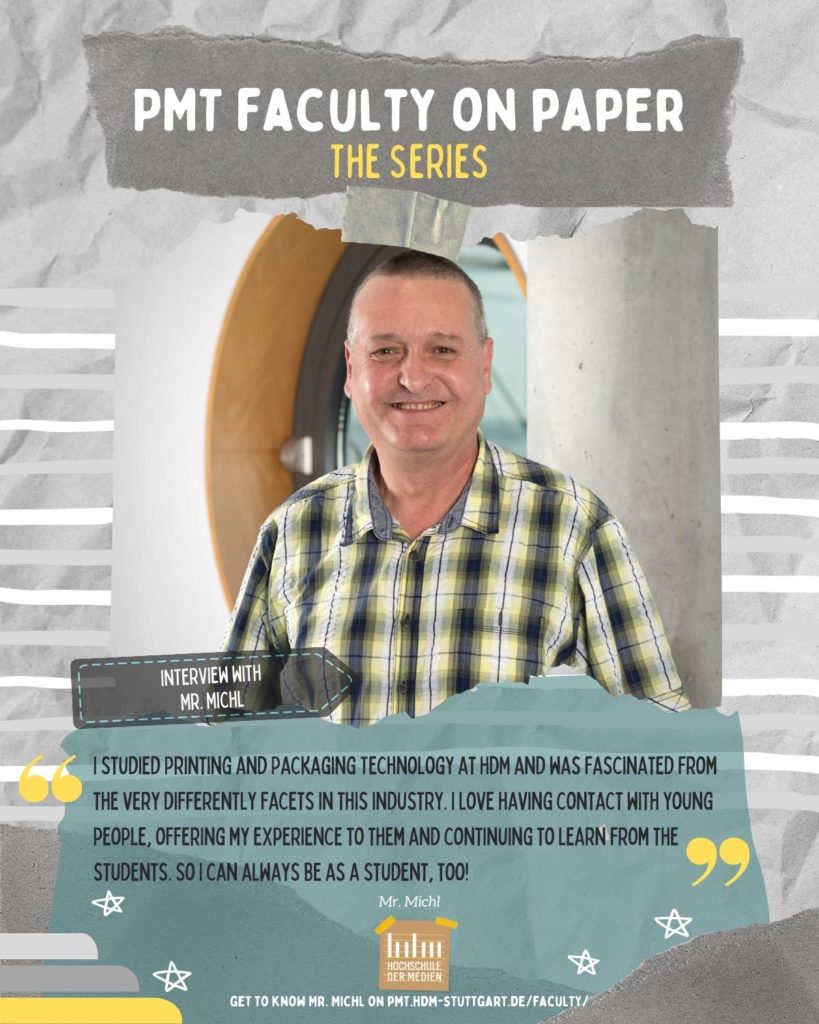 Mr. Michl is a technical employee and PMT and Research Lab staff member who has been working for HdM for 32 years!
He offers students courses in Practical Work and Advanced Lab Screen Printing.
What inspired you to work at HdM and what is your favorite part of being an HdM employee?
I studied Printing and Packaging Technology at HdM and was fascinated from the very differently facets in this industry. I love having contact with young people, offering my experience to them and continuing to learn from the students. So I can always be as a student, too!
How does your background and experience strengthen this academic background?
It has been a lifelong journey of learning by doing.
What do you value most about the PMT major/curriculum?
Language courses offered, the practical components of the program, the freedom to explore courses from other study programs at HdM which the students deem interesting.
What are some common characteristics, passions, and/or career goals of student in the PMT major?
Always be curious and have interest in technical connections, but also be creative
and try to realize your own ideas. Going on excursions and visiting industry companies and important fairs are also great!
What advice would you give to students entering the PMT program?
Have some knowledge from the printing industry before. That may mean, working or having a profession in the graphic industry. Speaking more than one or two languages is beneficial as well as having very good command of the English language.
What advice would you give students for being successful in your courses?
Contact your fellow students in the higher semesters and benefit from their experience. Put most of your energy and effort into the base studies.
What advice would you give to students graduating from the PMT program?
"Collecting people" during your time at HdM, meaning making a lot of contacts to people working in the industry and building relationships with those contacts.