PMT STUDENTS ON PAPER – THE SERIES
interview with Maamu Dorcas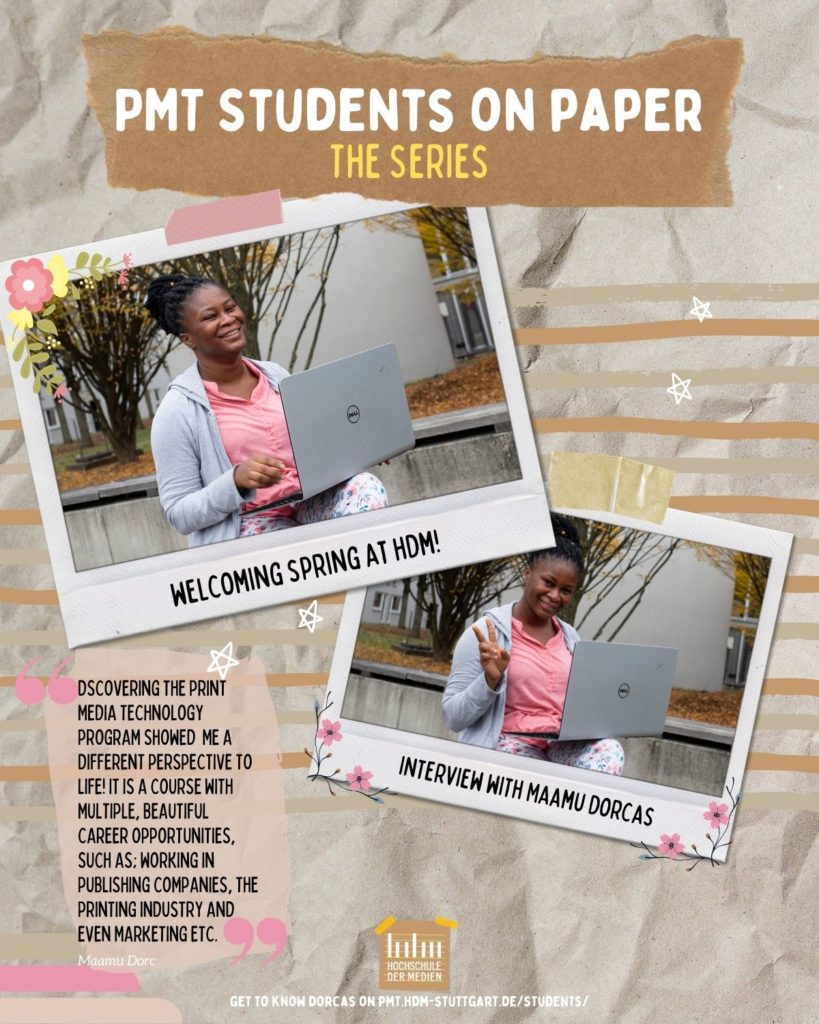 Maamu Dorcas earned a degree in Art Education but wasn't planning to stop there! Intrigued by the interesting career opportunities a degree in Print Media Technologies creates, she traveled from Ghana to Germany to be a Print Media Technologies student (PMT).
Though her journey to Germany was filled with twists and turns – she finally made it! Now, she looks forward to gaining insight into the industry, acquiring new skills and making the most out of her time as an HdM student!
What inspired your studies at Hochschule der Medien, specifically the PMT major?
Since I've already obtained a degree in Art Education, I had two options – either start working or start a masters degree. Discovering the Print Media Technology program showed me a different perspective to life. It is a course with multiple beautiful career opportunities, such as; working in publishing companies, the printing industry and even marketing etc. The contents of the study course itself inspired me. I also liked the modern and the highly equipped facilities that HdM has to offer their students. I believe this will allow me to acquire all of the necessary knowledge and skills to prepare me for my future career. I will make the most of this amazing learning experience that I am offered, by giving my all in order to succeed and do well!
What affect, if any, did COVID have on your ability to start your studies at HdM?
COVID prevented me from starting my studies on-site. I started the program online while abroad in the beginning, which was quite challenging for me. I often lost my concentration, I had multiple internet connection problems, and not to mention the huge time difference that had to be factored in!
What advice could you give other students struggling with having college experiences and starting/maintaining friendships during COVID times?
As long as we are still alive, viruses like COVID will always continue to emerge. This is no excuse to put life on hold, it is not the end of the world. In these situations, we simply have to make the best of them. People should still go about their daily lives even in the midst of COVID so can we can keep evolving, while of course respecting the protocols and staying safe.
What is the craziest experience you had since coming to Germany (if you were already in Germany prior to this semester, please share your experience since the start of COVID)?
When I arrived to the airport, I was having an issue with my flight ticket. To make matters worse, my phone was about to die, leading me to almost miss my flight! This was the first time I was ever going to ride in an airplane, so I had no clue if it was even possible to charge my phone on the airplane either. Thankfully, I made it to Stuttgart, without even knowing where I would go next once I left the airport.
The time of my arrival had also changed, so my assigned buddy could not find me. To make matters worse, the immigration officers at the airport would not let me leave the airport without knowing the exact place I would go next. They held me at the airport for some time in order to charge my phone (which, of course, would not charge). After a while, they finally decided to let me go after I had given them the schools address instead. It took the help of a taxi driver in order to finally reach my buddy. A special thanks to him, wherever he may be, he was a life saver!
Did the pandemic ruin any major plans you had so far? If so, what were they?
It almost did – but it didn't!! 😃