PMT STUDENTS ON PAPER – THE SERIES
interview with Laura Kieß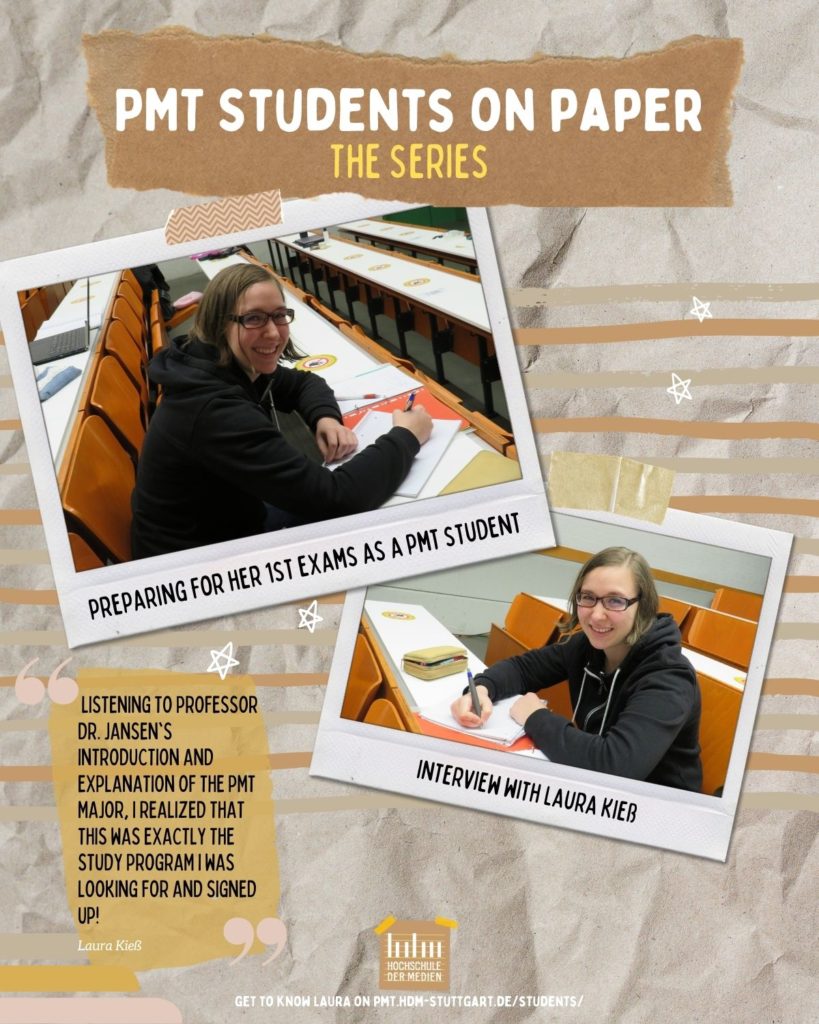 Though coming to HdM wasn't a journey from afar, Laura knew it was the right one! Laura Kieß, a Stuttgart-native, arrived on Information Day at HdM with a completely different major goal in mind. However, when she heard what Print Media Technologies (PMT) had to offer – she knew it was the perfect major for her!

Now, as a first-semester PMT student she is navigating university life during COVID and hoping for better days and increased social interaction!
What inspired your studies at Hochschule der Medien, specifically the PMT major?
I grew up in Stuttgart and visited HdM on information day to learn more about the librarian study program.
During my visit, by chance, I entered the PMT main program and, listening to Professor Dr. Jansen's introduction and explanation of the PMT major, I realized that this was exactly the study program I was looking for and signed up!
What affect, if any, did COVID have on your ability to start your studies at HdM?
COVID did not really affect my ability to start my studies, as I have lived in Stuttgart for most of my life. That said, COVID has restricted the courses that are being held on site and having lectures online is a little more difficult than studying in person.
What advice could you give other students struggling with having college experiences and starting/maintaining friendships during COVID times?
Try to contact your fellow students! Nowadays, there are many possibilities to meet online, so try to set up, for example, a zoom meeting, where you can exchange ideas and get to know each other. Most importantly, try not to worry too much, because COVID will go away.
What is the craziest experience you had since coming to Germany (if you were already in Germany prior to this semester, please share your experience since the start of COVID)?
HAVING TO DO MATH ONLINE!
Did the pandemic ruin any major plans you had for 2020? If so, what were they?
I didn't really have any specific plans, but of course it's been difficult not having the normal college experience and attending parties and events.