PMT STUDENTS ON PAPER – THE SERIES
interview with Fionn Heron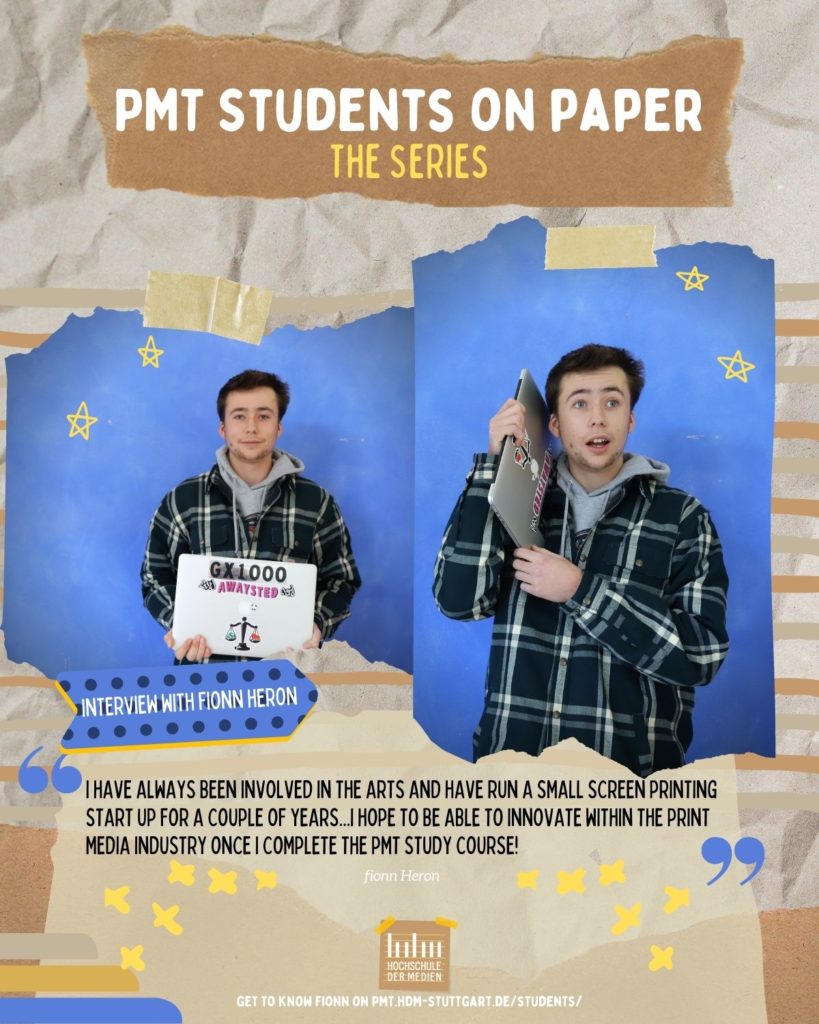 Interested in broadening his knowledge of print technologies after launching a screen printing start up, Fionn Heron journeyed from San Francisco to Germany to become a Print Media Technologies (PMT) student!

After maneuvering bureaucratic challenges when he first arrived in Stuttgart, Germany, he joined his fellow first-semester PMT classmates. Fionn hopes to one day make his mark in the print media industry by finding innovative solutions.
What inspired your studies at Hochschule der Medien, specifically the PMT major?
I have always been involved in the arts and after a couple years of running a small screen printing start up, I realized that a more broad understanding of printing technologies would allow me to execute virtually every process necessary in the sale and production of textiles and printed reproductions of artwork. I hope to be able to innovate within the print media industry once I complete the PMT study course.
What affect, if any, did COVID have on your ability to start your studies at HdM?
COVID resulted in the closure of the university where I previously studied. As an Irish citizen, I began searching for programs in Europe that continued providing opportunities for in-person learning despite COVID. I was very lucky to be traveling here from a low risk region in the east of Canada. This allowed for a relatively smooth transition except for not having a place to live upon arrival.
What advice could you give other students struggling with having college experiences and starting/maintaining friendships during COVID times?
I think right now it is important for students to remain positive while following protocols like wearing a mask and social distancing. We will push through these hard times and anything we are missing out on now will be fresh and exciting when risk has subsided and restrictions have been lifted. It is so important, although it gets colder daily, to stay active and go outside!
What is the craziest experience you had since coming to Germany (if you were already in Germany prior to this semester, please share your experience since the start of COVID)?
The most hectic time in Germany was when I first arrived here the day before orientation which also happened to coincide with my birthday. In the days that followed I scrambled to find living accommodations in student housing and almost missed the acceptance window for a room offer! "Studierendenwerk" (Student Union) needed a German bank account from me, the bank needed my city registration form, and the school needed everything! I somehow managed to accomplish all of this in a few hours so that I could go for a city tour with classmates.
Did the pandemic ruin any major plans you had for 2020? If so, what were they?
My plan for 2020 was to backpack across Europe over the summer and visit family. Instead, I spent the vast majority of my time in a house by myself but luckily was able to find many work opportunities. It definitely could have been worse, since I can now focus on my studies without worrying about maintaining a part time job for a few semesters.