PMT STUDENTS ON PAPER – THE SERIES
interview with Fiona Bella Walther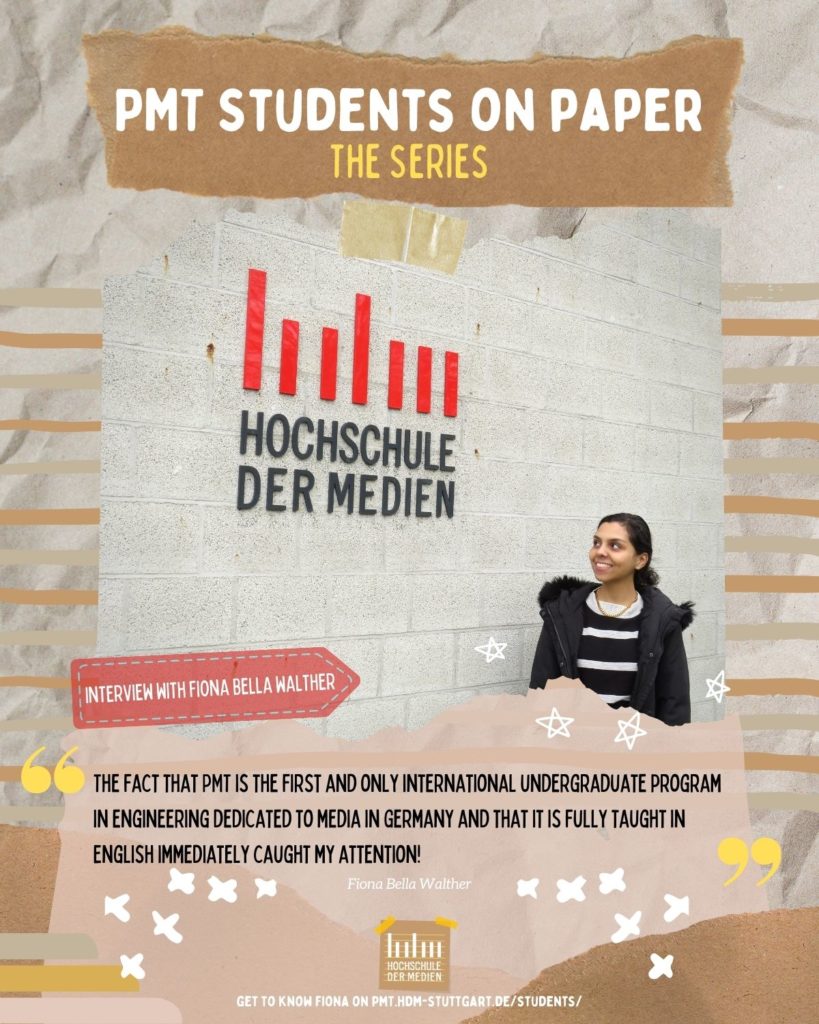 Fiona Bella Walther, a first-semester Print Media Technologies (PMT) student, was attracted to the program for its many components: business, technology, science, practical and international. With a Brazilian and German background, she has learned many languages and welcomes cultural exploration.
Fiona is excited to expand her knowledge, gain practical skills, and grow both professionally and personally through the PMT program!
What inspired your studies at Hochschule der Medien, specifically the PMT major?
The fact that PMT is the first and only international undergraduate program in engineering dedicated to media in Germany and that it is fully taught in English immediately caught my attention. Business management subjects help student understand the realities of business, preparing them to potentially become outstanding managers. The science and technology part of the degree course could significantly improve my logical thinking and technological skills that I obtained from my last year of business informatic studies. The practical and social skills offered to students by the Print Media Technologies degree course not only prepares them for their future career but also gives them room for personal growth. As I have been taught a total of five different languages throughout my life, I got used to learning and experiencing different cultures.
What affect, if any, did COVID have on your ability to start your studies at HdM?
Fortunately, none because I was already in Germany when COVID started and I have the German passport, which made things easier for me.
What advice could you give other students struggling with having college experiences and starting/maintaining friendships during COVID times?
I would recommend just staying indoors and doing video calls if necessary, since it is the safest way to interact with people nowadays… Doing online game and movie nights with other students could also be fun.
What is the craziest experience you had since coming to Germany (if you were already in Germany prior to this semester, please share your experience since the start of COVID)?
One thing that I found crazy in general was hearing about lots of people denying the existence of the virus and thinking it is a scam of the government to control the population. But nothing major happened since I am trying my best not to go out and quarantine myself for the greater good.
Did the pandemic ruin any major plans you had for 2020? If so, what were they?
I did not have any plans for the summer yet when COVID started, but I surely wanted to travel overseas.