PMT STUDENTS ON PAPER – THE SERIES
interview with Beatriz Diogo Klein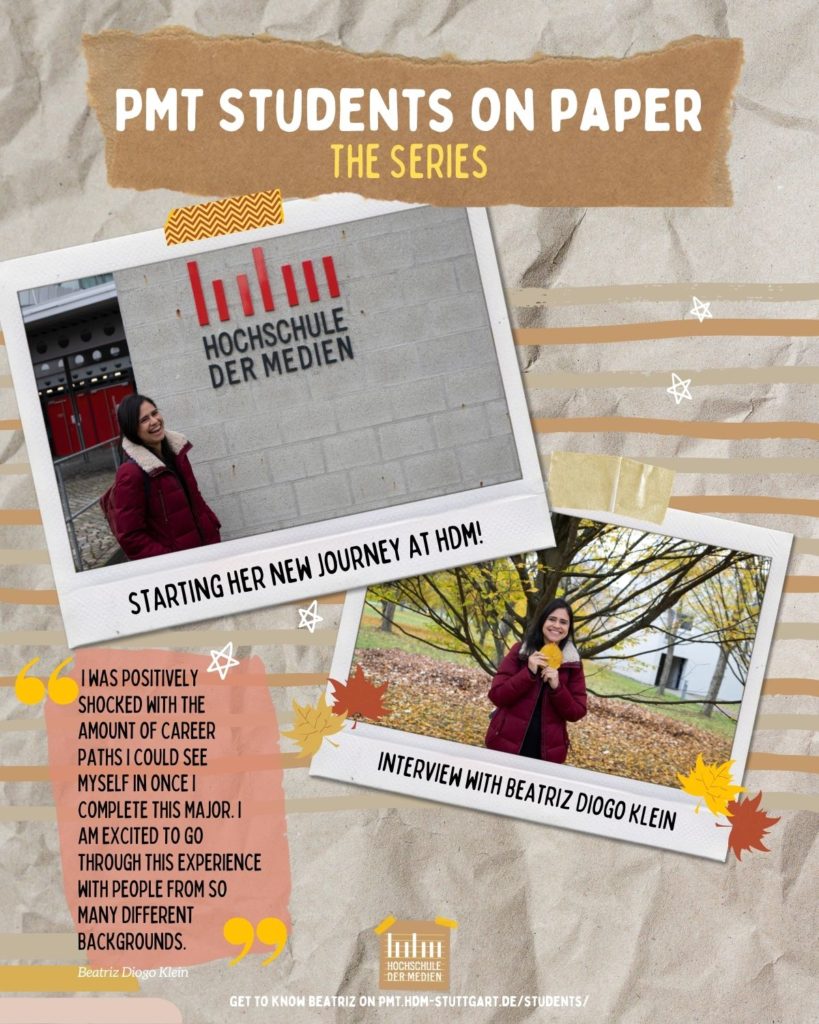 Beatriz Diogo Klein, a German-Brazilian citizen, returned to university with two toddlers to study Print Media Technologies (PMT). She feels the PMT major is the right fit for her for it's many career path options and because it is a culmination of all of her interests from creativity and intercultural exchanges to technology.
As a first-semester PMT student, she looks forward to sharing her journey with her fellow classmates hailing from all over the world as she earns her engineering degree in Print Media Technologies.
What inspired your studies at Hochschule der Medien, specifically the PMT major?
For a long time, I wanted to find a major that combined my interests interested in technology, creativity and interculturality. PMT was all of that with a plus: such a wide range of possibilities in one study course.
I was positively shocked with the amount of career paths I could see myself in once I complete this major. I am very excited to
have the opportunity to go through this experience with people from around the whole world, from so many different backgrounds.
What affect, if any, did COVID have on your ability to start your studies at HdM?
Luckily none. As I have a double citizenship (Brazilian/German) and was already living in Germany, I had no problems applying for a visa, documents or any traveling.
What advice could you give other students struggling with having college experiences and starting/maintaining friendships during COVID times?
A situation like this is hard on all of us in different ways. Let us be kind to one another, make sure to keep in touch and check on each other. Luckily, we have so many tools to maintain contact through the internet these days – so let us make use of them!
What is the craziest experience you had since coming to Germany (if you were already in Germany prior to this semester, please share your experience since the start of COVID)?
This is the question that I struggled the most with to answer! I guess I am a boring person, I can't really remember any crazy experience I had here!
Would going back to college with two toddlers alongside me count? If it does, that would probably be it!
Did the pandemic ruin any major plans you had for 2020? If so, what were they?
Yes. For a long time, I wanted to go to Brazil and visit the family I have there.
Unfortunately, I had to cancel my travel plans twice this year. Honestly, although it makes me sad, I am aware that so many people have experienced much larger problems than that. Vacations can be rescheduled; it is not an issue. Therefore, I can only be grateful that all my family and friends are healthy, that we are all ok, even though we are far from each other.