PMT STUDENTS ON PAPER – THE SERIES
interview with Asfandyar Fakher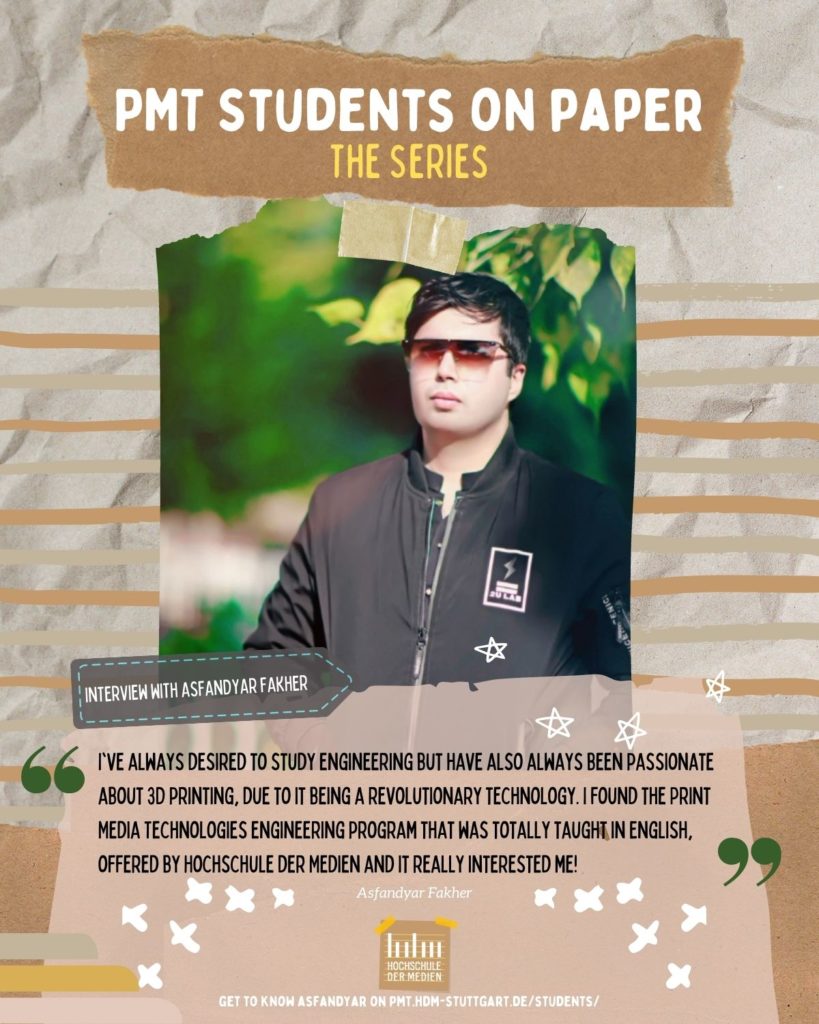 Inspired by his love of 3D printing and engineering, Asfandyar Fakher applied for the Print Media Technologies (PMT) program at HdM! He is excited about the career opportunities an engineering degree in Print Media Technologies can gain him and enjoys learning in a country known for it's engineering!
Asfandyar has been attending class online due to the pandemic, but will soon be journeying from Pakistan to join us in Germany!
What inspired your studies at Hochschule der Medien, specifically the PMT major?
I've always desired to study engineering but have also always been passionate about 3D printing, due to it being a revolutionary technology. I found the Print Media Technologies engineering program that was totally taught in English, offered by Hochschule der Medien and it really interested me. I decided to start studying it and explore the field of Print Media Technologies. Germany is the most technologically advanced nation, and is most known for its specialization in engineering, which motivated me to study in Germany. I feel so lucky that I am now a part of Hochschule der Medien as a PMT student. We are learning the technicalities of how the printing industry works at a global level; in Germany it is a 35 billion euro industry and around the globe, it is a 400 billion dollar industry. At the end of my studies, I will have many career choices in this industry in the future.
What affect, if any, did COVID have on your ability to start your studies at HdM?
Unfortunately, my studies were supposed to begin at the peak of Covid-19 while it begun spreading all around the globe. At the time, I thought that I would not be able to take a part in this semester, but fortunately the PMT faculty has made great efforts to ensure that I could start my studies this semester. The technical team at HdM is reliable and professional. The only thing that has affected me and my ability to start my studies at HdM was the German embassy. They were closed for almost 6 months and my appointment for the study visa took more than 6 months to get, for which now I am waiting for over the last 16 months.
What advice could you give other students struggling with having college experiences and starting/maintaining friendships during COVID times?
Well, it is not rocket science, you must work hard especially in an engineering degree, where you have to focus passionately and be positive in any situation. Attending all the lectures are very helpful because they are full of important information and most professors share their precious experience in the industry which is very valuable.
For friendships I would say, make the best out of the situation and expand your network. It will help you a lot in the future and we have all the tools to do so. I already made some friends as an online student! It will definitely be more fun in the multicultural classroom environment once everything goes back to normal.
What is the craziest experience you had since coming to Germany (if you were already in Germany prior to this semester, please share your experience since the start of COVID)?
Hmm, at this point I have not had my craziest experience yet because I am not in Germany. But I am coming to Germany very soon and I will definitely share it with you guys!
Did the pandemic ruin any major plans you had so far? If so, what were they?
My first major priority in 2020 was to come to Germany, but unfortunately it was ruined by the pandemic. I was very disappointed and it was very stressful for me. My main issue was my appointment with the embassy; it had taken me more than 6 months to get an appointment. Besides that, it was still a very hard time for me and, due to Covid-19, I was quarantined for almost 50 days at home because of the fear factor of Covid-19. Most of my time was spent reading books and watching some great documentaries.