PMT STUDENTS ON PAPER – THE SERIES
interview with Arsam Wali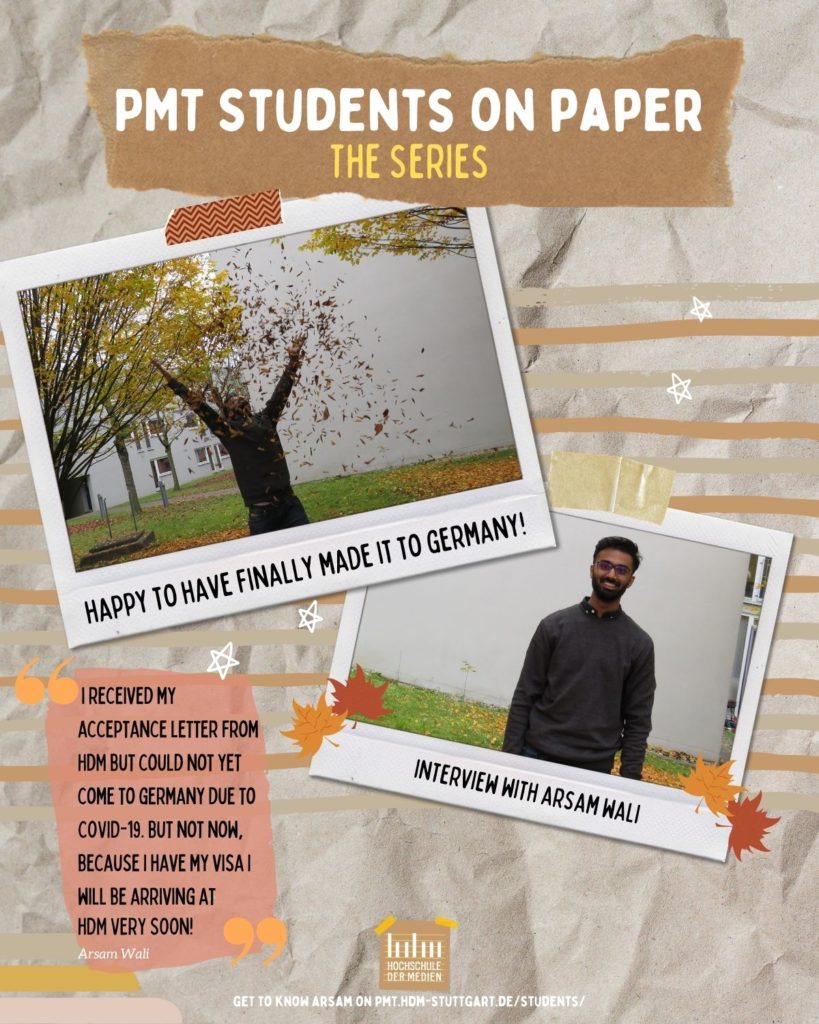 Arsam Wali is a first-semester PMT student who's plans to come to from Pakistan to Germany at the start of the semester were derailed by COVID!

But, thanks to the PMT staff, that did not stop his ability to have a quality education experience online until his arrival! Now, he has arrived at Hochschule der Medien (HdM) and continues to be excited about developing both his technical and creative skills while earning his PMT degree!
What inspired your studies at Hochschule der Medien, specifically the PMT major?
Print Media Technologies along with other programs offered at HdM are not only unique in Germany but are also rare in other parts of the world. The PMT major allows students to focus on technical and creative skills. It will enable us to learn more about the printing industry and what the necessary work behind it. Also, we are learning more about how industries operate at a global level. I'm excited to be a PMT student as it will assist me in getting to know and explore more about the printing industry along with the related technologies. In the end, it will make me valuable enough to work in the corporate sector after the completion of my studies.
What affect, if any, did COVID have on your ability to start your studies at HdM?
The PMT faculty have made great efforts to ensure I could start my studies this semester! They have never let me down or even made me doubt about my ability to start my studies due to COVID. Since I am not in Germany, I could easily follow the lectures online. The only thing that has affected me, has been the travel restriction, which was not allowing me to enter Germany at first. But I now have good news – I have gotten my visa and will be arriving at HdM soon!!!
What advice could you give other students struggling with having college experiences and starting/maintaining friendships during COVID times?
First, the main focus should be the knowledge that is given in the lectures of the teachers. Seriously, it doesn't really matter how and where you are attending lectures, as long as you are eager for knowledge, you will be able to grasp it, no matter if you are an online student or attending lectures on campus. And if your university has a team like PMT, ensuring the hybrid lectures are offering even online students a high quality educational experience – then I guarantee you don't have to worry!
The same goes for friendship, everyone should start talking to their classmates, since they know that they will study together for at least the next 3 years. Even in these difficult times, we may instead have to contact each other through online portals but we can still create memories together. When the COVID-19 situation improves and we are allowed to meet, we will also have some crazy experiences to talk about in person.
What is the craziest experience you had since coming to Germany (if you were already in Germany prior to this semester, please share your experience since the start of COVID)?
I am not yet in Germany, but I will be there soon in the coming week!
Did the pandemic ruin any major plans you had for 2020? If so, what were they?
My first priority earlier this year was to get admission to the university and continue my studies. After obtaining the acceptance letter from HdM, it was not yet possible to reach the country due to COVID-19. So, yes, that was a major plan that was ruined. I say "was" because I have my visa and I will be arriving to
HdM very soon!