PMT STUDENTS ON PAPER – THE SERIES
interview with Amanda Juneau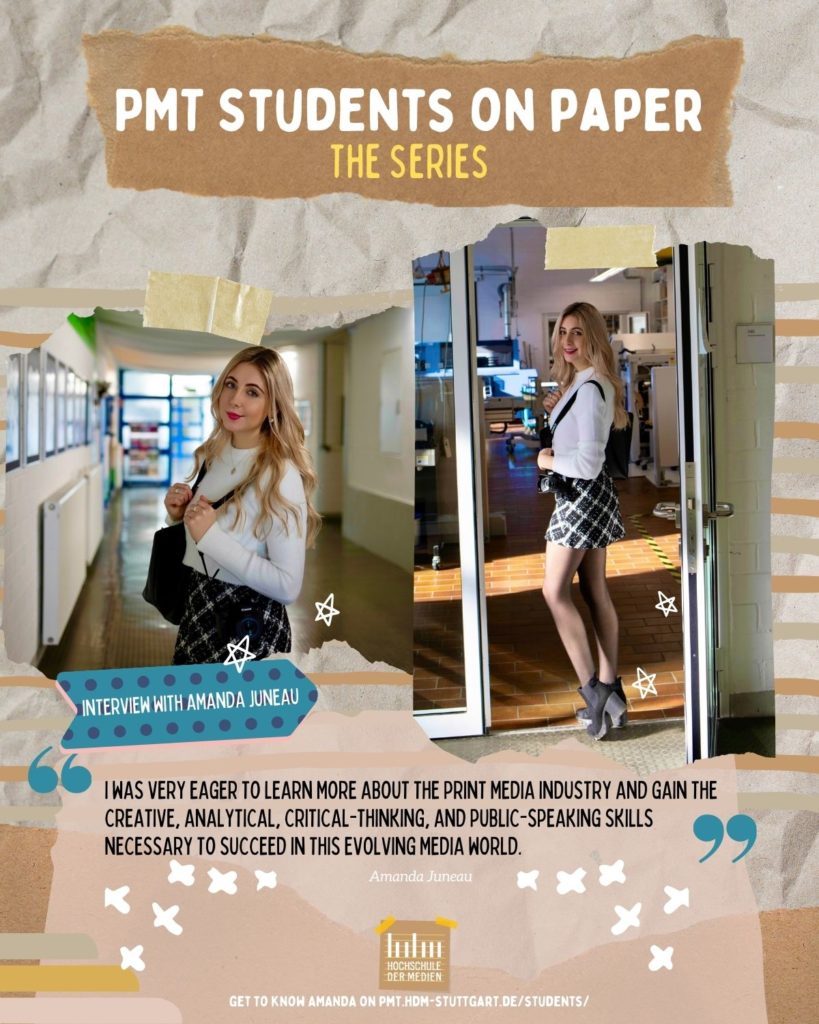 Amanda Juneau has a background in Business Management Marketing and a deep understanding of how Print Media directly relates to customer acquisition and retention. She is a first-semester Print Media Technologies (PMT) student who journeyed from Canada to gain more insight into the media world!

Coming to Germany, Amanda lived with a frontline doctor fighting the COVID pandemic. Being in a foreign country during a pandemic is a wild experience in itself, but hearing the first-hand hospital stories at the start of the pandemic – is even crazier!
What inspired your studies at Hochschule der Medien, specifically the PMT major?
HdM is one of the first universities offering such an extensive program focused on print media technologies. Since I plan to pursue a career in business in the future, I thought that having a solid background in print media was essential for marketing products in today's technology driven world. We live in an era where social networking and online marketing are the leading ways to communicate to consumers. However, to gain a competitive advantage, businesses need to stand out and to grab consumers' attention with interesting print media.
Investing in print media is very important for businesses to extend their reach to potential customers, gain exposure in the marketplace, and engage their target audiences with campaigns. I was very eager to learn more about the print media industry and gain the creative, analytical, critical-thinking, and public-speaking skills necessary to succeed in this evolving media world. The Print Media Technologies program interested me because it would enable me to apply my knowledge from my Business Management Marketing program into my studies at Hochschule der Median. I knew this was the right program for me to get an in-depth education in print media technologies to better prepare myself for the competitive employment market in international business. Since I already have a basic background in management and marketing, I wanted to strengthen my knowledge in media engineering and media production. I highly value the international learning experience that PMT has to offer. It is essential to have an intercultural competency in today's globalized market, especially in media.
What affect, if any, did COVID have on your ability to start your studies at HdM?
Personally, COVID did not really affect my ability to start at HdM. I had no trouble getting my visa to study here because I was already living in Germany when I applied for it and was familiar with the process. HdM has been doing their best to create good and memorable experiences for the first semester students, especially those coming from abroad.
What advice could you give other students struggling with having college experiences and starting/maintaining friendships during COVID times?
COVID has made it hard for students and classmates to get to know one another and build friendships because of the social distancing rules. The advice that I could give, would be to keep in touch with your friends through social media platforms and also have video chats with them. Every first semester student would like to make friends and that's important to keep in mind, so don't be shy to say hi!:)
What is the craziest experience you had since coming to Germany (if you were already in Germany prior to this semester, please share your experience since the start of COVID)?
I have been living in Germany since the beginning of the pandemic this year. It has been crazy to be separated from all my family during this whole time and not knowing when I would be able to see them again. It was very hard to stay at home every day during the first wave of corona when all the stores, restaurants and gyms were closed. I lived in a shared apartment with a doctor who had contact and treated patients with corona everyday. She would tell me the inside details about how serious the situation was and how scared she was because the hospital still had no idea how to treat these patients. Knowing the inside information from a doctor was crazy and scary!
Did the pandemic ruin any major plans you had for 2020? If so, what were they?
Yes, the pandemic did ruin a major plan of mine! I wanted to participate in a "work away" program in Portugal from April – September 2020. Due to corona, this was not possible and now my plans are postponed indefinitely.