PMT STUDENTS ON PAPER – THE SERIES
interview with Ahmed Muhamad Ahmed Adam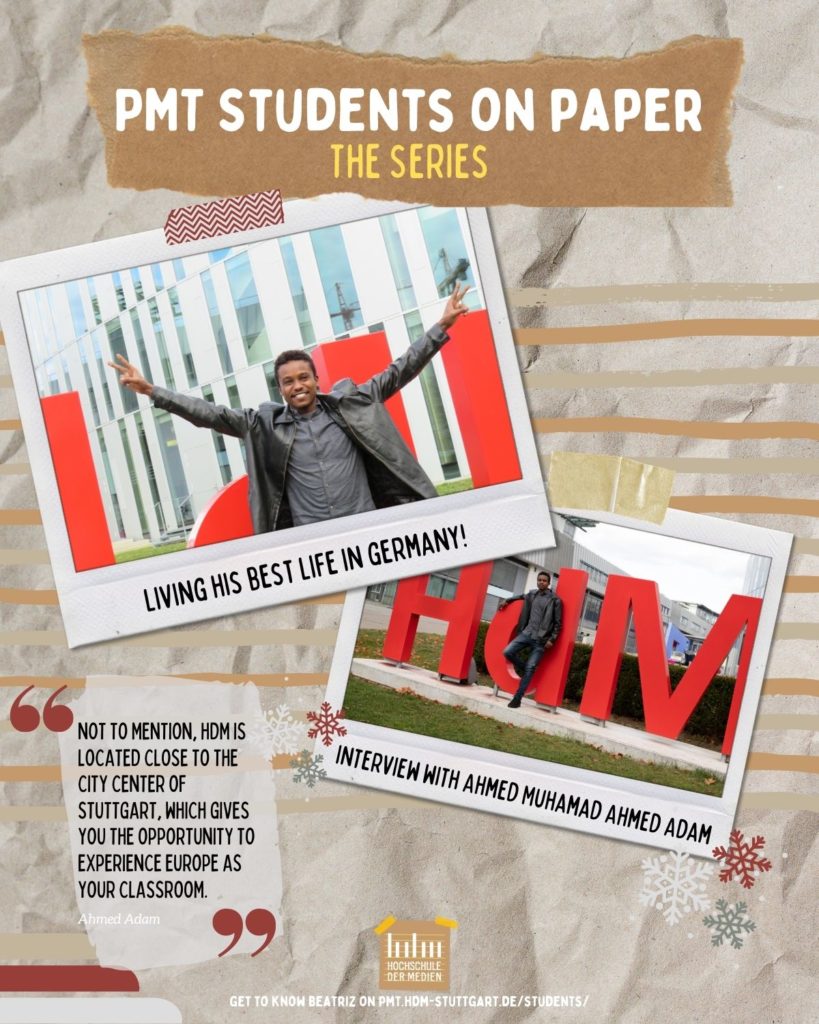 After working in the print media industry, Ahmed Muhamad Ahmed Adam was eager to learn more about the industry and began his first semester of students in the Print Media Technologies (PMT) program. He journeyed from Sudan to Stuttgart, Germany and now has Europe as extended classroom!
Though his semester began in the midst of COVID-19 lockdowns, with the help of the International Office and his buddy, he managed to avoid any major hiccups and join his classmates in Germany!
What inspired your studies at Hochschule der Medien, specifically the PMT major?
HdM is one of the best Universities in Germany, and possible the whole world. HdM creates a suitable environment for every international student. Not to mention, HdM is located close to the city center of Stuttgart, which gives you the opportunity to experience Europe as your classroom. I was working in company related to the print media field for a long time, and I wanted to learn more about the industry. This is why I have chosen the bachelor degree in PMT at HdM. I feel very proud to have the opportunity to study at HdM.
What affect, if any, did COVID have on your ability to start your studies at HdM?
When I got the acceptance letter on 12-04-2020, it was in the middle of the COVID-19 lockdown. I was really struggling during this time, because I couldn't do anything to start my visa process. I just had to be patient and wait. Thankfully, after a while, I was finally able to sort out my visa and move to Germany and start the in-person lectures.
What advice could you give other students struggling with having college experiences and starting/maintaining friendships during COVID times?
I am giving advice to any international student around the world who is thinking about starting a study program at HdM – do not hesitate and enroll yourself! You will have the chance of your life studying here. Additionally, I recommend that anyone struggling with any of the COVID-19 regulations, to just be patient, the best is yet to come.
What is the craziest experience you had since coming to Germany (if you were already in Germany prior to this semester, please share your experience since the start of COVID)?
When I first arrived to Germany on the first of October, everything went smoothly for me and I did not have any problems despite COVID-19. I want to give a big thank you to the International Office at HdM and my buddy for organizing everything for my arrival into Germany and at HdM!!
Did the pandemic ruin any major plans you had for 2020? If so, what were they?
At first, I was very afraid that the lockdown would continue for much longer in my country, but things are slowly starting to get better.