INTERVIEW WITH ANNA KOLESOVA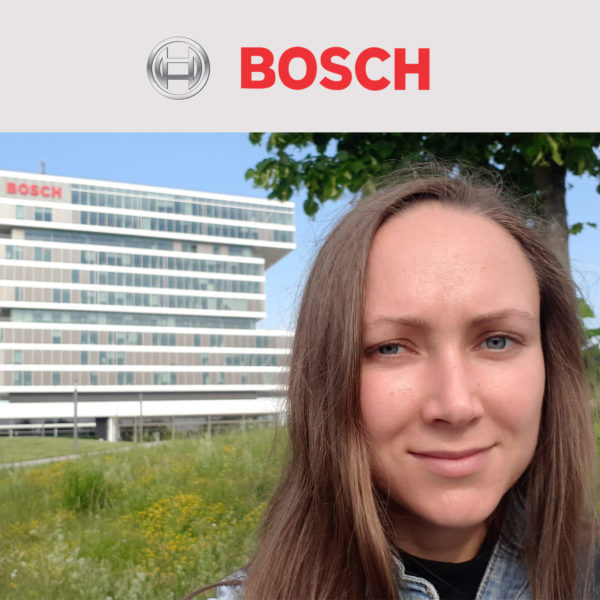 HOW DID YOU FIND YOUR INTERNSHIP? DID HDM HELP?
I found the internship by myself without help from Hdm. The internship was posted on Bosch website, where I applied for it.
WHAT WAS THE INTERVIEW PROCESS LIKE IN THE COMPANY?
The interview lasted for one hour and it was online. The questions were about my former experience and some work-related questions.
HOW WAS YOUR EXPERIENCE WORKING FOR BOSCH
I had a very positive experience working at Bosch, as I had a chance to use the advanced equipment for the experiments and get constructive feedback from experienced researchers. During the whole process, my supervisor was very supportive and helpful.




What new skills did you learn?
During the internship, I experienced how research work is conducted within a company and got experience in the complex process flow.
Besides, I gained a lot of new knowledge on the topic of rheology and improved my skills in laboratory work and metrology. In addition, I started to develop an analytical way of thinking and had a chance to come across a statistical approach to data analysis. Thanks to my supervisor, Petra Kuschel, who led me through the whole process, I had positive learning and working experience. I gained knowledge that would be useful for my future professional life and university projects. Besides research skills, which I developed during the internship. I also improved my soft skills such as teamwork, professional and technical communication as well as broadening my scientific vocabulary. Moreover, the conducted research helped to be prepared for the upcoming Bachelor thesis.
Did the company offer you consistent feedback throughout your internship?
During my internship, we had three feedback meetings with my supervisor. The First one-two weeks after I have started, where we discussed if everything is okay, or we should change something. The second one after three months where we have discussed my performance and the internship report. The last feedback section was on my last day, where my supervisor gave me her feedback; the grades for each aspect such as the quality of work, stress resistance, the ability to adapt fast, and so on. In that last section, I also gave feedback to my supervisor. Generally, during the whole internship period, my supervisor gave me some notes on how to improve my work. Also, I have received a theoretical introduction to the topic in form of a presentation from my supervisor.
What was your favorite part about working for THIS COMPANY?
Ability to plan my day by myself, independence, and long-term tasks.