PMT INTERNSHIP- Depuy Synthes
 INTERVIEW WITH Alessandro Piga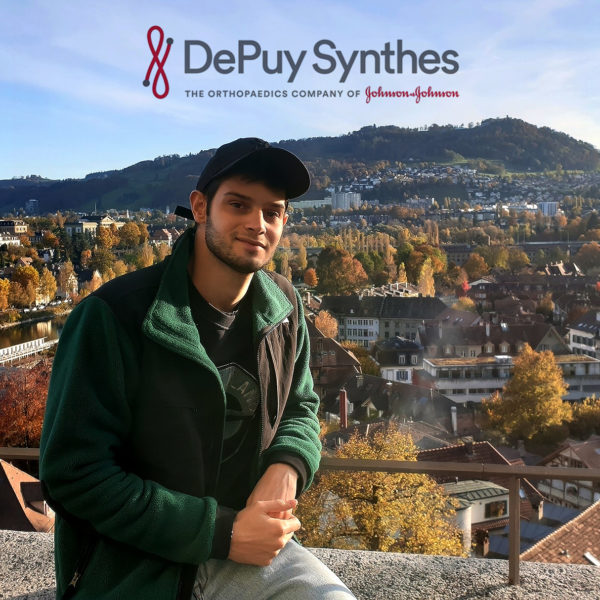 HOW DID YOU FIND YOUR INTERNSHIP? DID HDM HELP?
I discovered the internship while searching in the Johnson & Johnson group website for open positions. With Professor Jansen's help, I was able to complete my application and figure out which company might be the best fit for me. However, to find the best match for my interests, I had to search extensively on my own without any particular help from HdM.
WHAT WAS THE INTERVIEW PROCESS LIKE IN THE COMPANY?
I was first invited to a digital interview, during which I had to answer some pre-recorded questions on the computer. All of the questions were quite general, but mainly concerned my past work experience and the strengths that would help me succeed at work. After a couple of weeks, I have been invited to a second interview with two packaging engineers from the company. During this interview, they tested my knowledge of packaging materials and asked me some behavioural questions. The behavioural questions consisted of a series of imaginary problems that could occur in the work environment; then I had to explain how I would handle these complications.
.
HOW WAS YOUR EXPERIENCE WORKING FOR DePuy Synthes?
Overall, I really enjoyed working for the company. The learning experience was fantastic and I was finally able to contribute to the development of something truly impactful. During my time there, I was allowed to support multiple pillars of the company's packaging department, allowing me to get a 360° view of the medical device packaging development workflow. In addition, I was able to work independently on some topics of my interest. All this is mixed in an international and pleasant working environment with supportive colleagues.
What new skills did you learn?
By having the opportunity to carry out projects independently, I was able to improve my project management skills considerably. I have also learnt how to communicate professionally in an international organization and how to cooperate with suppliers during the packaging development process. In addition, I got to know how to work in a GMP-compliant laboratory and learned how to collect information correctly and present it in a clear and organized way.
Did the company offer you consistent feedback throughout your internship?
Yes, I was assigned a tutor who gave me feedback on my work every week. Moreover, all the people there were always willing to answer any questions or clarify any doubts I had at any time.
What was your favorite part about working for THIS COMPANY?
My favorite part was probably the design phase of any new packaging system. I found it very interesting and fun to have to analyze the characteristics of the products and the packaging components to find a suitable packaging solution. This process involved also collaboration and discussion with suppliers, which I also enjoyed. And finally, I can say it was very rewarding and exciting to see the configuration you came up with passing the validation tests.