Laura Cirstea, PMT Student, Awarded DAAD Prize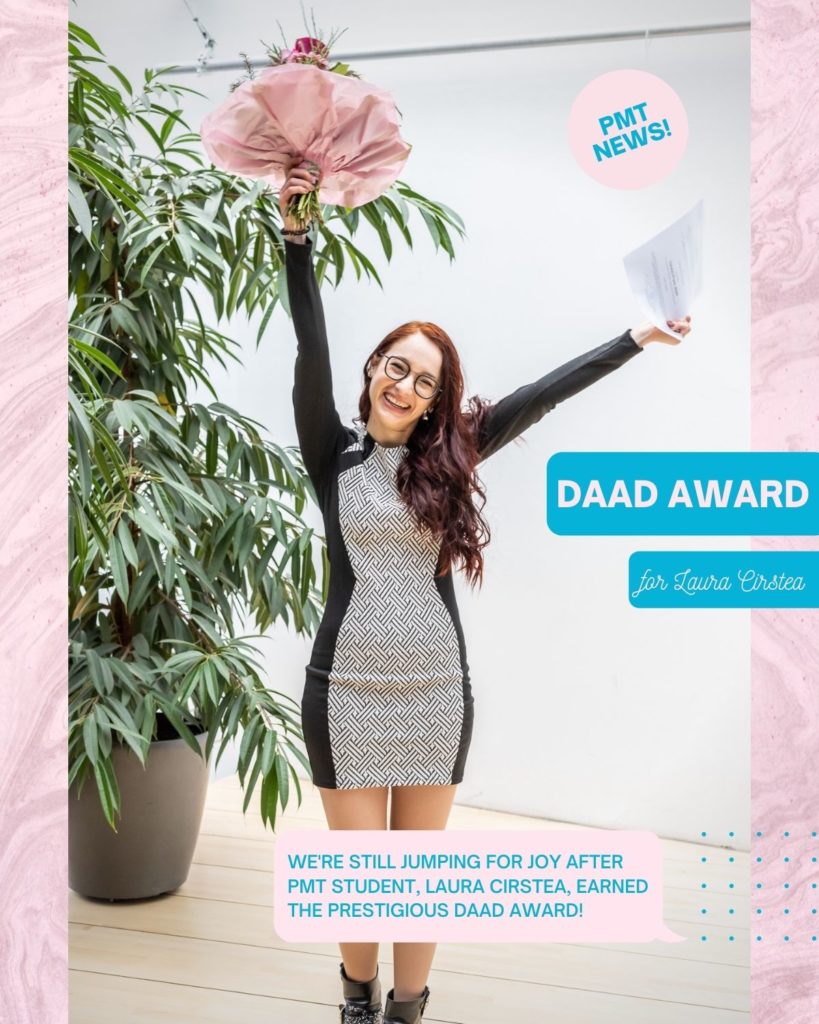 Laura Cirstea is a 4th semester Print Media Technologies (PMT) Student and winner of the 2020 German Academic Exchange Service (DAAD) Award. This prestigious award accompanying a 1,000 EUR prize is presented annually to outstanding international students at HdM who stand out for their excellent academic achievements and social and intercultural engagement.
Not only has she shined as an international student at HdM, but she continues to support other international students by serving as a "buddy" for incoming Print Media Technologies (PMT) students.
We interviewed Laura to learn more about her journey to becoming a DAAD prize winner and how it has affected her future thus far! She shared that shortly after receiving news of her DAAD award win, she interviewed with Bosch and will now be starting her internship at Bosch in March 2021!
Read more about Laura's journey below ⤦
When did you first hear about the DAAD prize and how/why did you decide to apply?
DAAD offered me extremely helpful information before starting the Print Media Technologies degree program. This included information about coordinating my studies, planning my first days in Germany, and how to find scholarships. Ever since I was accepted to HdM, I was deeply motivated and determined to perform at my very best while being socially engaged in the international student community.
The DAAD award recognizes international students with outstanding academic achievements and exemplary social and intercultural commitment. The nominees for the DAAD prize are proposed by university officials.
How did you feel when you found out you won and what does it mean for you?
On a cloudy Thursday morning in December, just before leaving for the weekly scheduled Digital Printing lecture at HdM, I received an email from Laura Ryhänen, the HdM International Coordinator. The email read:
"I am thrilled to let you know that the Jury has chosen you as this year's winner of the prestigious DAAD Prize! The jury complimented you on your excellent academic record, your work with the Faculty and the degree program, your active life as a Buddy and in other organizations, and your input in the international life and community at HdM."
I could not contain my happiness! I felt deep gratitude and joy for being the very first winner of the prestigious DAAD Prize from Print Media Technologies. This achievement put everything for me in perspective. I knew that all my hard work was not in vain and I should continue on this track.
Tell us about your journey to PMT and what helped you become a DAAD prize winner.
tarting PMT was a long-desired and researched decision. I wanted to study something that I am passionate about and that could lead my career to a bright, international future. After six years of working, entering an academic environment was a big and new challenge, but I felt thrilled about this opportunity and was ready to commit to it as never before. My passion for language learning has helped me as well to shape a borderless academic and professional perspective, as I speak Italian, English, French, Romanian, and am learning German.
When I arrived in Stuttgart from Italy, I appreciated the warm welcome from HdM as well as my buddy, another PMT students named Arne, and his patience in helping me shuffle through all the initial must-dos. That is why I decided to offer my help to the upcoming generations of international students and offer them the genuine support they may need to quickly integrate at HdM and in the German society, especially during these hard coronavirus times.
Since the first semester at HdM, I enjoyed getting involved in the campus and university activities and found a comfortable balance between academic learning and the student community. One of the aspects that I value the most from student life is the constant exposure to a multicultural environment. I consider integration and diversity to enrich our reality on campus and at HdM. This is the reason why I got engaged with different organizations that promote social and cultural exchange between students from different countries living in Germany.
For students interested in becoming DAAD prize winners, what advice can you offer them?
I strongly believe that our attitude plays a big role in our achievements. I can say that perseverance, resilience, and enthusiasm towards my studies were the undeniable attributes for my academic success.
During my previous work experience and my university involvement, I understood, even more, the high value of education, how important it is to extend your knowledge, to go deep into what you are doing, and work toward becoming an expert in your field.
I recommend we all be curious, creative, ask questions for understanding, be ambitious, and welcome opportunities for self-improvement. Find your strengths, work hard on your weaknesses, believe in yourself, be kind and open-minded towards other people, opinions, and cultures.
I believe that we should continuously search for development in our life and keep pushing our limits. As Albert Einstein said, "In the middle of every difficulty lies opportunity."
How is being a DAAD prize winner helping you accomplish your goals?
Not only was winning the DAAD award a powerful boost of energy during the hard times of 2020, but it also immediately created new opportunities for me. Shortly after the celebration of this wonderful achievement, I interviewed with Bosch and was hired to start my internship semester in March 2021.
Is there anyone you would like to thank?
I would like to give a huge thanks to the International Office, all of my professors, our PMT Dean, Prof. Dr. Jansen, the academic staff, the PMT students that are sharing this journey with me, all of my friends, neighbors and family members for supporting me with their love!
Continue to make the PMT program proud, Laura!